Jose Ruiz Vazquez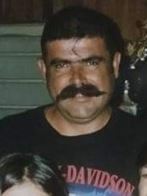 12/22/2012
49-50 when he went missing
7/8/1962
5' 7"
200 to 210 lbs.
Black
Hazel
Latino/Hispanic
Thick, black mustache. Long eyelashes, big eyes. Scar on lower lip.
Contact the Salt Lake City Police Department (801) 799-3730
Jose contacted his family by phone on 12/22/2012 stating he was in the state of Utah. Family has not heard from him since. Jose has lived a transient lifestyle.  It is unknown what clothing he was wearing when he went missing.