Rhonda Karren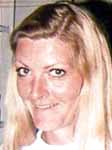 9/2/1987
8/16/1956
31 at time missing
5'4"
120
Blonde
Green
White
Mole on lower right side of chin, discoloration on leg.
Contact Uintah County Sheriffs Office (435) 789-2511
Rhonda was last seen at approximately 10:30p.m. after dropping off a co-worker at their residence in Salt Lake City, UT. It is believed she returned to her residence in Vernal, UT. The following day, she was to open the K-Mart store at 7:30am. She was reported missing on September 29th. There were signs of a struggle at her residence. Rhonda is considered a chain smoker, but left her cigarettes on the kitchen counter along with her purse, house and car keys. She was last seen wearing  a sweater and black polyester slacks.